Description
Description
Have a superior control of the smell are dust-free and ultra-absorbent.
Carefresh the environment, without chemicals and additives.
and gives your pet a natural and healthy environment.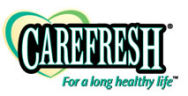 Carefresh, one of the most important companies in the world, which manufactures hygiene beds. They offer a variety of products ideal for beds of small pets, such as rabbits, guinea pigs, chinchillas, rats, mice, hamsters, gerbils, ferrets, and birds and reptiles.
Our Products:They offer a superior technology for odor control
Absorb up to three times its weight in liquid
Duran more than double wood chips
Are safe for pets and their owners, aromatic oils or harmful chemicals or pollutants not included
They provide a natural fit for small animals
They are environmentally friendly and easy to clean.
Features
REFERENCE

066380000870

QUANTITY 

14 L, 50 L

BRAND

Carefresh

FORMAT

Chips

MATERIALS

Wood, Paper

CHARACTERISTICS

Scentless

SMALL ANIMAL TYPE

Rabbits, Guinea Pigs, Hamsters, Degus and Gerbils, Chinchillas, Rats and Mice, Squirrels